In need of a career change or simply looking to begin a new career in barbering? In addition to being a premium, time-honoured barbershop, Strap and Scraper London offers premium barbering courses in the basement of our prestigous barbershop
With no more than 2 learners per course, a fully functioning barbershop and a work ethic that can only be described as the Strap and Scraper way.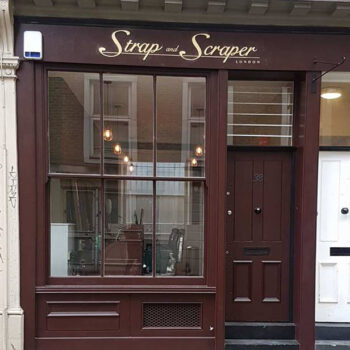 Hours:
Tues-Fri – 10:00-16:00 (Full Time)
Tues- 17:00 – 20:00 & Sat 10:00-16:00 (Part Time)
For those that want to learn all aspects of barbering this is the perfect place to start your career in barbering. No prior experience is required.
You will learn how to ensure a high level of service, the Strap and Scraper London Barbershop way. We have our philosophy and it has proven to work throughout our barbershops over the past 6 years and we believe is why we are so highly rated. So, in a nut shell, here's what we cover on our courses:
Strong consultations – When a client sits in your barber chair, it's so important to ask precise questions in order to distinguish what they want and work within a specific time frame. It's also important to consider the time taken to extract this information. If you don't know what your client wants then you are going in blind! A big no no from us.
The client journey – From the minute someone enters your barbershop doors, to the moment they leave, the time is precious and we instil our Strap and Scraper formula to get you ready for the barbering world. From how you greet, to how you communicate, it all plays a role and we have the script.
Hair cutting – The main piece of the puzzle. Here, we cover a huge array of barbering methods and techniques. By barbering, we mean barbering; not mens hairdressing or hairdressing in general. We are proud to be premium barbers and that's what we deliver…premium barbering. What we cover as barbers:
Scissor over comb, clipper over comb, razor skin fades, grade 0, grade 0.5 and grade 1 fades, how to deliver and achieve high, low and mid fades, scissor cuts, tapering, outlines, general clipper work, texturising techniques, thinning scissors: how and when to use them and many many more!
Facial hair – A hugely popular demand these days. From sculpting beards to clean cut throat razor shaves, we cover it all. The process, the tools, the delivery and how to put it all together.
Blowdrying – The key ingredient to an excellent haircut is an excellent blow dry. From how to hold the hairdryer in sync with your correct styling brushes, to actual techniques and methods to achieving different looks.
Product styling and knowledge – The best way to compliment a fantastic haircut, is the product you style it with. It is imperative you know what works with what kind of hair type, what kind of finish they leave in the hair and even your product ingredients. These are key things every barber should know and key knowledge we will deliver.
How to maintain a client base – We are not here to teach you how to cut hair for social media. We aim to get you ready for a variety of barbershop environments and ready and able to deliver an excellent haircut, alongside excellent customer service. Remember, working in a barbershop means working on time frames and building and maintaining a client base. Our methods, experience and knowledge will get you there.
Tips on how to get employed – What makes you employable, things you should be doing, things you shouldn't and any questions you may have; throw them our way and we will be more than happy to help.
Barber etiquette – Key things that we do in Strap and Scraper that make us who we are, from tiny minor details, to more obvious ones. We are Strap and Scraper London Barber Academy and we look forward to you starting your barber career with us.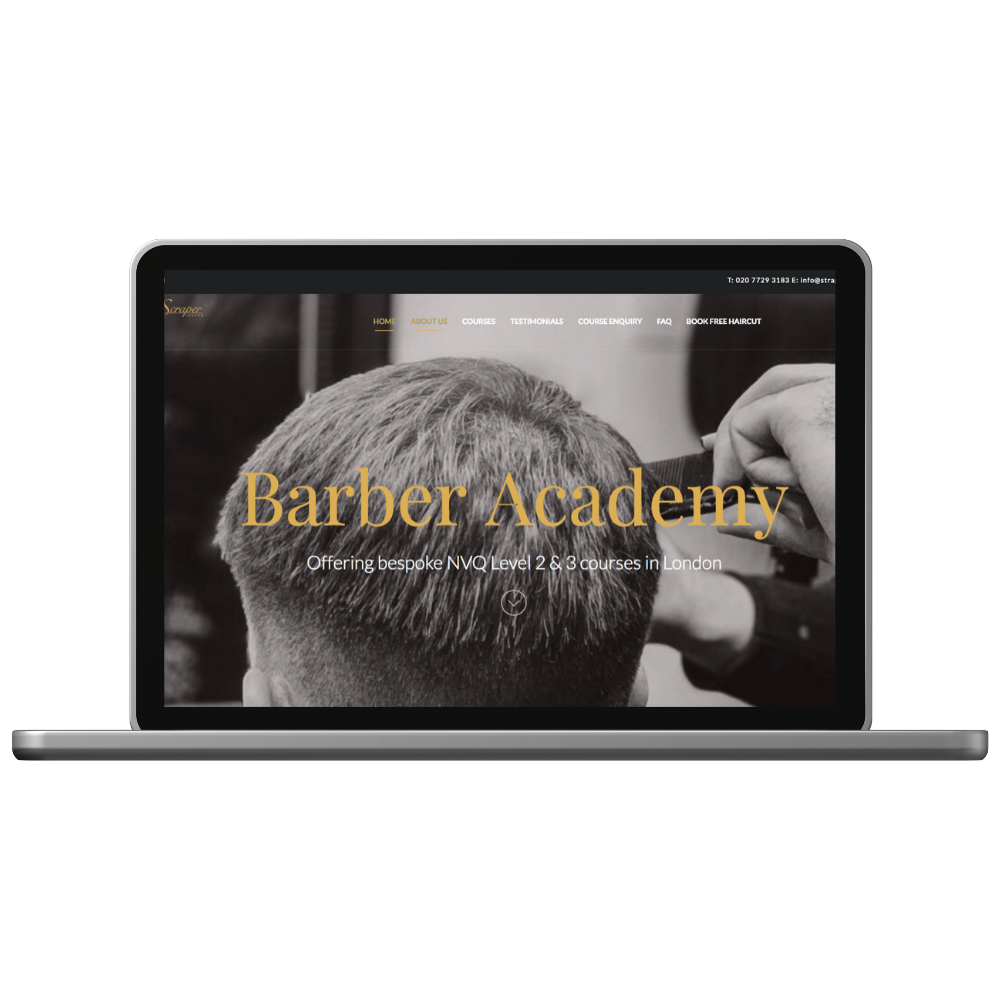 For more information about our barber courses please send an email to hello@strapandscraperlondon.com